Custom Creations and Automotive Marvels at SEMA 2023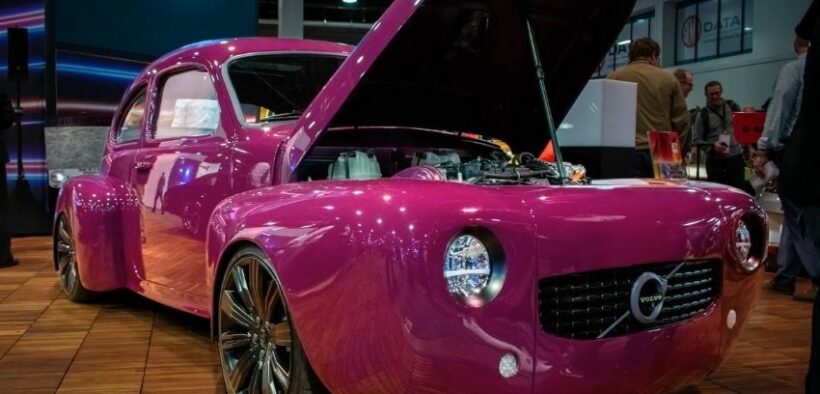 The SEMA show is an automotive extravaganza that needs no introduction. It's where custom car builders, hot-rodders, and major automakers come together to showcase their most daring creations. Amid the sea of automotive wonders, we've scoured the 2023 SEMA show to uncover some of the lesser-known projects that caught our eye. These exceptional builds, born from sheer dedication and craftsmanship, deserve your attention.

1961 Volvo PV544 "Iron Maven" – A Vintage Gem with a Modern Heart
Imagine a 1961 Volvo PV544, bathed in a lush pink hue dubbed "Rebel Berry" and widened by 11 inches, and you're already in the presence of automotive excellence. But what truly sets the "Iron Maven" apart is hidden beneath the classic body. Beneath its retro façade lies the chassis and powertrain from a 2019 Volvo S60 T8 Hybrid.

In a feat of engineering prowess, the all-female team from Girl Gang Garage successfully integrated the twin-turbo 2.0-liter inline-four engine and the rear-mounted electric motor. The result? A combined 400 horsepower, a staggering four times more than the original PV544.

Ferrari 612 TR Teppista – The Bold and the Beautiful
Feast your eyes on the Ferrari 612 TR Teppista, a car brimming with audacious details. From the transparent engine cover to the pointed rear wing and the vibrant yellow-and-blue cockpit sourced from the 612 Scaglietti, this is a visual masterpiece. While the amalgamation of chrome and copper accents might appear bold, there's no denying the car's magnetic presence.

1987 Merkur "RS4Ti" – A Forgotten Gem Revived
When was the last time you laid eyes on a Merkur XR4Ti, let alone one as extraordinary as this? The XR4Ti, originally derived from the European Ford Sierra, is an underappreciated gem from the '80s. This 1987 version, reimagined by Jesse Henke of JH Restorations, ditches the original powertrain for an "EcoBeast" 2.3-liter turbocharged Ford crate engine, capable of delivering up to 500 horsepower. This transformation breathes new life into a forgotten classic, turning it into a powerhouse of nostalgia.

VW Caddy with Porsche V-6 – A Perfect Blend of Style and Power
The Volkswagen Caddy from Auto Finesse is more than a head-turner with its deep red paint, gold BBS wheels, and gleaming chrome roof rack. But the real surprise is what resides under the hood—a 3.2-liter V-6 engine plucked from a first-generation Porsche Cayenne. The outcome is a ride that promises a delightful driving experience, even if the effect on weight distribution in the diminutive pickup is a mystery. Nevertheless, this Volkswagen Caddy is proof that beauty and power can coexist seamlessly.

1946 Willys Jeepster "Amigo" – A Nostalgic Adventure
Closing out our selection is the 1946 Willys Jeepster named "Amigo," reimagined by Dustin Hacker of Nostalgia Hot Rods. The Jeepster, an ambitious but short-lived attempt to enter the passenger car market in the late 1940s, is a rare sight in the world of customization. "Amigo" stands out with its rugged charm, thanks to a long-travel suspension and Toyo Open Country R/T Trail tires. The combination of robust rubber and Method Race Wheels beadlock wheels in bronze perfectly complements the military green paint. It's a delightful tribute to a bygone era with a dash of modern off-road flair.

1965 Chevrolet C10 Slayer – A Six-Wheeled Marvel
Among the show's surprises was a proliferation of six-wheeled trucks, and this modified Chevy certainly stole the limelight. Crafted by Brad and Doug DeBerti of North Carolina, the Chevy C10 Slayer is a marvel of customization. Aside from the roof and A-pillar, nearly everything has been tailored to perfection.

In conclusion, SEMA 2023 unveiled a treasure trove of vehicular artistry. These extraordinary builds not only pay homage to automotive history but also push the boundaries of what's possible in the world of custom cars. The dedication and craftsmanship of the creators shine through each of these machines, making them memorable pieces of automotive history.